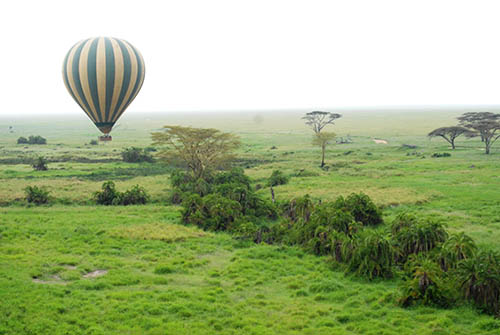 This is an exclusive excursion over the Serengeti Plains, offering unparalleled panoramic views of the wonderful landscape. It's a very popular excursion which can be added to any safari in the Serengeti. Only two balloons fly each day, each with a capacity of just 12 people. The experience starts with a pre-dawn pick up from your lodge and a drive to the launch site.
You enter your hot-air balloon at dawn for a breathtaking one hour flight. As you float over the plains in the increasing light, the pilot will take you up to at least 300m altitude for a breathtaking panoramic view of the plains. Much of the remainder of the flight will be at tree-top or even grass-top level for close up views of the flora and fauna below.
Upon landing, you are met by the ground support team with a bottle of champagne. Then it's off to the breakfast table which is set up under an umbrella tree close to the landing spot. You are served a fully cooked English breakfast with tropical additions – a fine spread served on china with silver cutlery and crystal glasses.
The balloon safari finishes around 9.00am when you are returned to the lodge to be met by your driver guide. As this is an early morning excursion, you can add this to your itinerary even if not all members of your group are participating.